Hello there!
Just quickly popping in this card before I head off to Ohio to spend the weekend with some friends. :)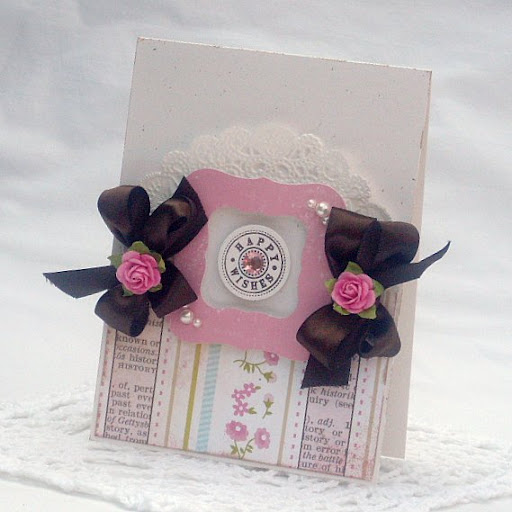 Ribbon galore!
Instructions: Cut and score card base, and cut out patterned papers. Adhere striped patterned paper and half doily to base and distress. Make a frame using the pink and white die cuts, and adhere to base. Stamp image onto paper, and cut out using punch. Attach this to center of frame, and adhere gem to center of punch. Adhere half pearls to corners of frame. Tie two double bows, and adhere flowers to center.
Sorry, I couldn't make the photos any smaller on here without them being minuscule. ;)
That's it for the weekend - thanks so much for stopping in! :)
************************************
Card recipe
Cardstock:
Unknown
Patterned paper:
Girls Paperie, Cosmo Cricket "Honey Pie"
Stamp:
Hero Arts "Thinking of You messages"
Ink:
Colorbox, Martha Stewart
Jewels:
Half pearls by Remembrance, gem by Prima
Ribbon:
Offray
Roses:
Remembrance
Tools:
trimmer, adhesive, Cuttlebug, Nestabilities, scissors, circle punch